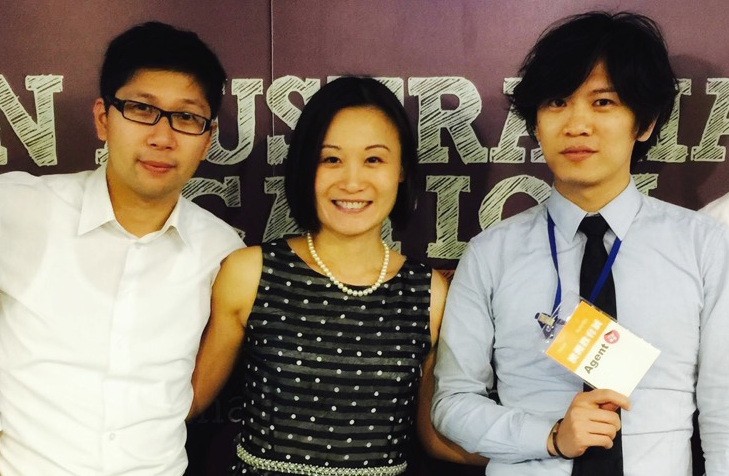 關於華澳:

華澳留學顧問有限公司在台成立於2002年,從語言學校到中學、專科、大學及研究所,我們都有豐富的留遊學諮詢及代辦經驗,長期以來已經幫助過上千名的學生申請成功並順利取得文憑。無論是留學、遊學、打工度假,我們的服務不僅是從選校諮詢到獲准的申請過程,更在意學生抵澳後的生活所需,舉凡銀行開戶、手機開卡、入學、轉學、打工資訊等種種協助,我們都將提供最完善的全程服務。本公司並於2019年正式取得內政部移民署移民業務機構營業資格(註冊登記證第C0247號),以提供更全面的學習及移民規劃。
Austral-oriental education service (A-OES) was established in Taiwan in 2002. We have helped thousands of students to apply and obtain their degrees successfully for 21 years. We have profound experience of assisting with students with their overseas study in Language courses, High schools, Vocational Education and Training course, Colleges and Universities. We work with students on selecting and applying schools based on the options suitable to each individuals and also help students with their life needs after arriving in Australia, such as bank account opening, mobile phone card activation, admission, transferring, work information, etc. We will make all-out effort to provide the best service to you.
In 2019, our company officially obtained the business qualification of the immigration business agency from the Ministry of the Interior National Immigration Agency (Registration Certificate No. C0247). We believe that with this certification we will provide a more comprehensive study and immigration plan to suite your need.
華澳教育移民則是早在1999年即創立於澳洲昆士蘭首府布里斯本。華澳教育移民不僅是澳洲政府核准設立的留學顧問公司(澳洲政府立案字號ABN 22104154001),同時也是澳洲政府及澳洲移民管理部門註冊的移民公司(澳洲政府移民代理註冊號MARN:0637790)。
A-OES (Brisbane office) was founded in 1999 in Brisbane, the capital of Queensland, Australia. It is not only a education consulting institute approved by the Australian government (Australian government case number ABN 22104154001), but also an immigration company registered by the Australian government and the Australian immigration management department (Australian government immigration agent registration number MARN: 0637790).

華澳教育移民的顧問團隊,具備了澳洲教育專家證書、澳洲心理諮商協會註冊會員(Registration No.981529)、太平紳士(JP, Justice of the Peace)認證資格。因此,從課程申請、就業輔導或日後居留的問題,華澳兩地合作的專業服務,都將提供最完整的升學規劃,讓學生免於更換代辦的困擾。
The consultant team of A-OES (Brisbane Office) has the qualifications of Australian Education Expert Certificate, Registered Member of Australian Psychological Consultation Association (Registration No. 981529) and Justice of the Peace.
With the cooperation between Taipei and Brisbane offices, A-OES covers the affairs from the application of courses, employment counseling and future residence. This saves our customers from the trouble of changing agents.

華澳除了提供專業的諮詢及代辦服務,我們更加重視對於每位學生的了解,在有限的預算內,提供量身打造的出國規劃,避免每一分不必要的開銷。希望每位同學都能夠在最小的負擔下,一圓出國的夢想。
In addition to providing professional consulting and agency services, we value each individual's uniqueness. Thus we've been endeavoring to customize each students' study plan within their budget and hope every students can achieve their goals of studying abroad at their budget prices.
---
服務項目:
台北辦公室
「我們規劃的不只是一段課程,而是您的未來!」

澳洲留學, 澳洲遊學免費諮詢、規劃
免費代辦申請澳洲語言學校、中學、專科、大學、研究所、博士課程
免費代辦寒暑期個人遊學
免費澳洲打工度假規劃、辦理
申請學生簽證、打工度假簽證
當地接機、住宿協助安排
各類澳洲機票代訂服務
澳洲手機易付卡門號開通
一對一專屬出發行前說明
不定期舉辦澳洲各類學校面談會
移民業務諮詢代辦
(註冊登記證第C0247號)
Taipei Office
"What we map out is not just the course you take, but the future you own!"
Studying in Australia, free consultation and planning for studying in Australia
Free charge of applying for Australian language schools, high schools, colleges, universities, research institutes, doctoral programs
Free charge of Australian working holiday planning and processing
Apply for student visa, working holiday visa
Local pick-up and accommodation arrangements
All types of Australian ticket booking services
Australian mobile payment card number activation
One-to-one orientation
Free seminars of Australia schools
Immigration consulting
(註冊登記證第C0247號)
澳洲辦公室
「時刻為您掌握最新澳洲移民動向!」

各類學校課程免費諮詢申請
免費代辦各級學校學生簽證
專業辦理各項中途轉學事宜
免費提供澳洲移民最新資訊
評估多項移民申請方案
最新緊缺移民課程建議JP & C. dec 公證作業
翻譯各類中英文件及證件
代為購買各類簽證健康險
協助辦理上課缺席率問題
寄宿家庭安排與機場接送
安排成績欠佳者解決方案
提供專業心理諮商及報告
職場適應測試評估與建議
澳洲移民服務諮詢
(Registered Migration Agent: 0637790)
Brisbane Office
"Always keep you updated on the latest Australian migration trends!"
Free consultation and application for various courses
Applying student visa of all levels
Assisting various transferring matters
Free updates on Australian immigration
Evaluation of multiple immigration application programs
JP & C. dec notarization for the latest immigration courses
Translation of various Chinese and English documents and certificates
Applying various types of visa health insurance
Assist in handling absenteeism in class
Homestay arrangement and airport pick-up
Arrange solutions for underachievers
Provide professional psychological consultation and report
Workplace adaptation test, evaluation and recommendations
Australian Immigration Consulting Services
(Registered Migration Agent: 0637790)
Code of Conduct: https://www.mara.gov.au/tools-for-registered-agents/code-of-conduct
Consumer Guide: https://www.mara.gov.au/get-help-visa-subsite/FIles/Consumer guide March 2021.pdf